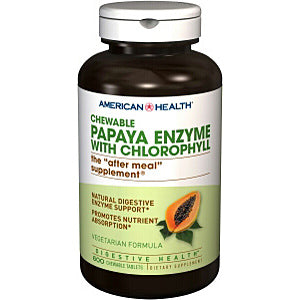 American Health, Papaya Enzyme w/Chlorophyll Chewable (600 Tablets)
Sold out
Original price
$14.33
-
Original price
$14.33
Availability:
Out of stock
Supplement Facts
Serving Size: 3 Tablets
| | | |
| --- | --- | --- |
| | Amount Per Serving | % Daily Value |
| Total Carbohydrate | <1 g | <1%** |
|   Sugars | <1 g | † |
| Papain (from Carica Papaya)(fruit) | 45 mg | † |
| Protease (from Aspergillus oryzae) | 6 mg | † |
| Alpha-Amylase (from Aspergillus oryzae) | 6 mg | † |
| Papaya Fruit (Carica papaya) | 3 mg | † |
| Chlorophyll (from Alfalfa) | 3 mg | † |
† Daily Value not established.
** Percent Daily Values are based on a 2,000 Calorie Diet.
Other Ingredients: Sucrose, Calcium Carbonate, Vegetable Stearic Acid, Corn Starch, Vegetable Magnesium Stearate, Papaya Flavor, Date Powder and Fructose.
---
Suggested Use: As a dietary supplement, chew 3 tablets following a meal, one to three times daily, or dissolve one or two tablets in mouth when needed.
---
Allergies: Contains no gluten, yeast, wheat, milk or milk derivatives, lactose, soy, egg, grapefruit, preservatives, artificial color or sodium.
---
Caution
: If you are pregnant, nursing or taking any medications or have any medical condition, consult your doctor before use. Discontinue use and consult your doctor if any adverse reactions occur. Keep out of reach of children.
More Info
Our famous blend with Chlorophyll is the perfect "after meal" supplement® to help support and maintain daily digestive health. We combine the finest quality ingredient from freshly ripened Papaya and naturally sourced enzymes including papain, amylase and protease which aid in the digestion of proteins and carbohydrates, while encouraging their absorption. Our formula offers the ideal choice to help with inefficient digestion. Take this delicious, naturally sourced enzyme supplement regularly to promote gastrointestinal wellness while helping to reduce bad taste and sweeten breath.*

About American Health
American Health®, a leading manufacturer of the American Health® and Ester-C® brands, brings you the highest quality nutritional products created to help you maintain optimum health and wellness.* Even when health and wellness were not part of the mainstream lifestyle as they are today, we understood the importance of taking extra steps to ensure your body gets the nutritional support needed to function at its best.